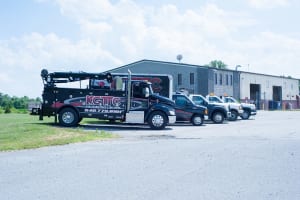 King George Truck & Tire Center is a family-owned business with more than 35 years of experience in the transportation and maintenance industry. We've been in business for more than a decade, bringing 24/7 rapid-response roadside repairs to trucks and other heavy-duty vehicles. Call (540) 775-6101 for immediate assistance.Located in King George, Virginia, we serve much of Virginia, Maryland and Washington, D.C. Among the locations we service are Fredericksburg, northern Virginia, Woodbridge, Virginia's Northern Neck, metropolitan Washington, southern Maryland and the I-95 corridor.Our state-of-the-art service truck brings our garage to you for fast roadside repairs. And our secure, seven-acre, 20,000-square-foot facility has pull-through repair and maintenance bays. Our certified mechanics specialize in working on heavy-duty and commercial vehicles, including tractor-trailers, RVs, buses, emergency vehicles, dump trucks and service trucks.
We offer 24/7 roadside repairs, scheduled maintenance, nationally required and Virginia state inspections, and a huge selection of parts and tires.
You can count on King George Truck & Tire Center for integrity, quality, dependability and fast service.