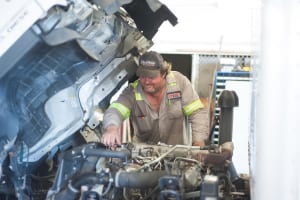 King George Truck & Tire Center offers Federal Motor Carrier Safety Administration inspections and certifications.
Every commercial motor vehicle must be inspected as required by FMCSA (http://www.fmcsa.dot.gov/regulations/title49/section/396.17).
Our certified technicians provide expert service to help you comply with federal standards. Our mechanics have Emergency Vehicle Technician certification, as well as certification from the National Institute for Automotive Service Excellence — a guarantee of knowledge and experience.
Let us provide the regular maintenance that will keep your heavy-duty vehicle or fleet up to date and ready for inspection. In addition to our expertise, we have a huge inventory of parts and tires to keep you moving.
Our garage also offers annual vehicle inspections and stickers required by the state of Virginia (http://www.vsp.state.va.us/Safety.shtm).